29 Apr

The Puppets Never Die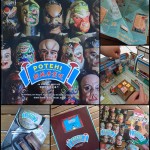 It's been a great privilege and pleasure over the past year and more to help produce a really wonderful – and unique – publication. The subject matter is close to our heart: the glove puppet theatre of East and Southeast Asia – known as potehi – is one of the oldest and best-loved performing arts traditions, and very much kept alive in Penang by four puppet troupes and a groups of young apprentices associated with Ombak-Ombak ARTStudio.
Potehi Glove Puppet Theatre of Penang is more than just a book. Look at the photos and you'll see a fabulous bilingual multimedia box set – containing a lavishly illustrated book, two charming flipbooks, a spectacular stage pop-up, four attractive posters and a captivating performance DVD. Taken together it presents a comprehensive account of the rich history and current practice of potehi in Penang and its links to other places in the region. It covers everything you need to know and would like to found out: the performers, patrons and audiences; the rituals and celebrations; the anatomy of the stages and the puppets themselves; the stories, scripts and music; and the control and manipulation of the puppets.

Based on extensive research and observation, Potehi Glove Puppet Theatre of Penang brings to life the artistry of the magical world of puppets and puppet theatre – and passes it on to a new generation. Sadly, due to the incompetence of those who purport to be the guardians of heritage in George Town, the publication has so far flown under the radar. But that's about to change. Look out for a special event with puppet shows and talks in May – and treat yourself and your friends to this brilliant product, a testament to a living performing art.