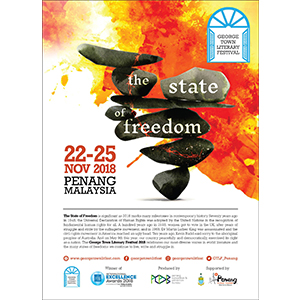 23 Jun

George Town Literary Festival 2018

Gerakbudaya Bookshop will once again be the official bookseller to the award-winning George Town Literary Festival this year. The festival dates are 22–25 November 2018.

The theme for this year's edition is "The State of Freedom". The theme was decided before the recent Malaysian election – and this change offers a fascinating context in which to explore, without fear or favour, what democracy really means. Here are some things to note:
→ This year's festival takes place over four days (not three)
→ Under the directorship of Bernice Chauly, the curatorial team for the main festival consists of Melizarani T. Selva, Pang Khee Teik and Gareth Richards.
→ There will be a fringe festival again this year – and some other innovations
→ The roster of invited speakers, moderators, performers, workshop leaders, book launches and more will be announced in the coming weeks – expect old friends and new faces
→ The bookshop will once again be the official bookseller – and we will be sponsoring writers and some events

Here is Bernice's powerful statement on the official launch of the festival theme:
"The State of Freedom is significant as 2018 marks many milestones in contemporary history. Seventy years ago in 1948, the Universal Declaration of Human Rights was adopted by the United Nations in the recognition of fundamental human rights for all. A hundred years ago in 1918, women got to vote in the UK, after years of struggle and strife by the suffragette movement, and in 1968, Dr Martin Luther King was assassinated and the civil rights movement in America reached an ugly head. Ten years ago, Kevin Rudd said sorry to the aboriginal peoples of Australia. And on May 9th this year, our country peacefully and democratically, exercised its right as a nation. The George Town Literary Festival 2018 celebrates our most diverse voices in world literature and the many states of freedoms we continue to live, write and struggle in."

See you in Penang in November!